Jus' Peachie
Sitting down with Katie "OG Peachie" Wimbush-Polk
From bringing weed to her first day in the Air Force to standing up for those without a voice, Peachie's story is one of kindness, conviction and a love of weed—all in pursuit of leaving the world a better place than she found it.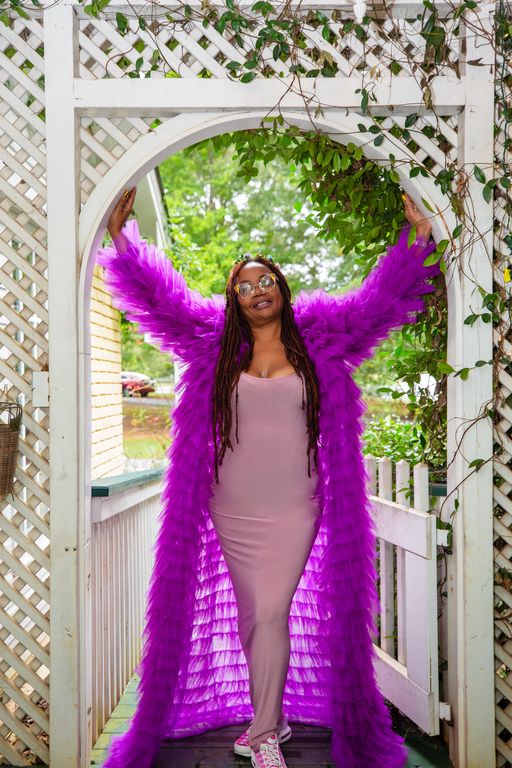 Katie Wimbush-Polk—known to her fans and family as OG Peachie—is many things to many people. She's a proud Pittsburgh native whose relationship with cannabis started more than 40 years ago. She's the mother of renowned celebrity and rapper, Wiz Khalifa—the pair used to wake n bake in the mornings together before heading off to work and school. She's an activist who speaks out on injustice and guides those who are looking for more wellness in their lives. And, she came out of the pandemic as a twice-published author. Wherever she goes, whatever she does, the world is a better place for it.
Home Grown
OG Peachie was born and raised in Pittsburgh, Pennsylvania in the middle of the civil rights movement, something she credits for her deep relationship with activism. To this day, her first memory of community is of the National Guard occupation of her neighborhood following the assassination of Dr. Martin Luther King, Jr. in April of 1968.
The name, which many ask about, is a combination of a childhood nickname and the term coined by her grandchildren.
"Between my husband's and my own, we are at about 30 [grandchildren]. We even have some great grand babies. Everybody, all the women and men in my family all have grandparent names. We're all still young and fly!" Peachie laughs. "Don't call me grandma! Have you seen me? I don't look like 'grandma.'"
While OG typically stands for Original Gangster, Peachie says that it really refers to someone you consider your elder.
"Where I grew up, you call someone an OG, that was your elder," she explains. "They could be related or not, but that was someone that cared about you and made sure you didn't make stupid mistakes."
Peachie, on the other hand, has been her nickname since she was a baby.
Named after her great aunt, The Elders always thought "Katie" was a dim name.
"I had a sparkle in my eyes, deep, deep dimples, and was too baby-looking to be 'Katie'," She recalls. "I needed a nickname, and it was originally going to be Dimples, but my great grandmother gave me a peach…I maybe had two teeth, and I stuck those teeth into that peach and the name has stuck ever since…but, since my son is in the industry, I don't use my government name."
Those that knew Peachie in high school know her as Maureen, her government middle name.
"Everyone who knows me from school knows me as Maureen, they don't know me as Katie. Since junior year of high school, my friends only knew my first name started with a K. 'K-Maureen' I started to go by. I wanted to be fly, go to Paris and get a fur coat. That's why I went into the military. I didn't know what I was going to be, but whatever it was, I would be fly," laughs Peachie.
"At 19, people would call me Katie and I didn't know who the fuck they were talking to, but I would never change my name."
Later on, she'd earn the nickname Flo Jo of the Bomb Dump, but everyone still knew her as Peachie.
"[Flo Jo] was this crazy ridiculous flamboyant chick from Compton who was an Olympian. She's Sha'carri [Richardson] before her…long hair, curled nails, different paint, really JAZZY little eye candy, and fast as shit….She was always really fly. And I always have lipstick on…I'd be sandblasting bombs but I still had lipstick on."
But before she graduated and made her way into the Air Force, Peachie was introduced to another love: cannabis.
Junior HIGH School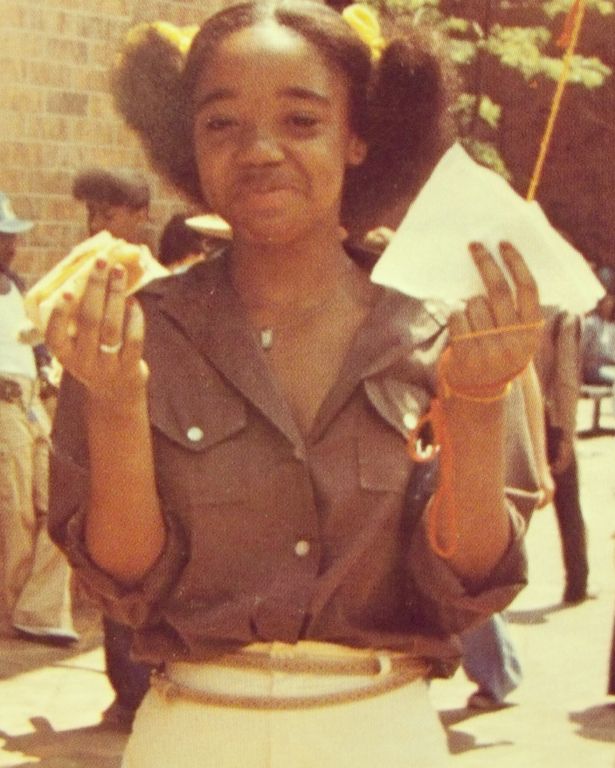 "My history with cannabis goes back to 1977," Peachie recalls. "It's interesting how it started, and what I thought I was doing versus what I have come to learn was going on."
"I started smoking with Jamita Brown in the back of junior high school, very innocently," laughs Peachie. "When Rick James says 'I'm in love with Mary Jane, she's my main thang,' he was talking about me," adding that she saw James in concert while in high school with her sister, rolling up 25 joints from a few nickel bags.
"I enlisted my goodie two shoes sister. We got 4-finger manilla nicklebags and some strawberry papers. It was the first time flavored papers had ever been so available…We had about 25 joints…4-finger nickel bags used to be REALLY, really fat."
It was instant love for Peachie, a creative, dancer and school athlete in her youth.
"I loved it; I loved the way it made me feel, loved the way...it made me better. I didn't know that [at the time]; I just thought I was getting high."
Peachie built up a reputation among her peers and teachers for her noticeable aroma but was always careful not to get caught.
"I started smoking in 7th grade. In 8th grade, the year we graduated from middle to high school, we were banned from the class picnic unless we submitted to a search because the teachers rode by us [smoking] in the morning…We smelled like it but didn't ever have it, so they could be mad but coolant' do anything because they never caught us smoking or found weed on us."
Peachie's friends, the "Crash Crew of '82," would stand off property and smoke. They searched the students before the picnic, but the crew still snuck in.
"They called our moms and we got in so much trouble….it affected my ability to be a part of the graduation ceremony," remembers Peachie.
"Cannabis was trouble for me, but I didn't care. I didn't let anyone tell me anything. I never bought into the propaganda. I'm a science nerd. As a science nerd, I knew things about plants and what they do, and I knew a couple things about drugs because my grandmother was a heroin addict. I have a tragic family history of drug and alcohol abuse, and even then, I would not let anyone convince me that this plant was anything more than a healer. Although, at the time, I just thought I was getting high and being a badass."
Somewhat surprisingly, her steadfast independence would lead her to join the Air Force after graduation, hoping to travel the world at the tender age of 19. This was in the early 80s, towards the end of the Cold War.
"When I entered the Air Force, I became a global citizen," Peachie says. "Up until that, like a lot of girls, I was just a little girl from the projects."
The military gave Peachie the ability to see the world, traveling to places she would have never seen otherwise. She spent eight years, eight months and eight days in the service—including tours in Operation Desert Storm—building bombs and working in the operating room as a surgical services technician. Or as she says, "I could blow you up and put you back together."
"Right now, I can go anywhere in the world, and I have a friend everywhere; I have someone who was family to me everywhere," Peachie says of her military family. "I would not trade that for the world."
Bringing Weed to the Air Force
"I went in the day after Easter," Peachie recalls, laughing as she remembers where the story is heading.
"I took weed to the Air Force! But it was in me by the time I got to basic training in Lackland Air Force Base at some ungodly time in the morning."
Peachie enlisted the day after Easter. "Easter dinner and night contained some alcohol and drinkin' and I had some good-good, some red diablo–it had a devil name or something. [After dinner], I had two joints left."
Not knowing her plans, Peachie decided that the joints were coming with her.
After leaving her boyfriend's house, where she was living at the time, she met her mother and her best friend at the local federal building to enlist. She spent all day filling out briefings and signing paperwork.
"They make sure you really honor these commitments. You literally sign your life away all day long. At 19, you don't think that's what you're doing, but I'm 57 now and I know what the fuck happened."
As the day went on, enlistees were advised to drop any contraband they might have in "amnesty boxes" before heading to basic training.
"I was raised in projects, so I had a healthy suspicion of the government. I didn't trust that shit one time," Peachie says, realizing as it would happen that everyone who put something in that box never made it to the next briefing.
As the day went by, realizing how deep in this she now was, and still having the weed on her, Peachie boarded a bus to the airport.
"I could not tell you where we connected…but wherever we connected, I went to the far reaches of the airport and smoked that shit! Back then, airports didn't close down fully and there would be parts of airports where you could smoke…So, I smoked the weed, got really blazed up, and when I landed at Lackland Air Force Base at some ungodly hour and they started shouting and shit, I was high, but I abstained my whole enlistment."
For three reasons, Peachie abstained from cannabis throughout her whole enlistment.
"The first reason is that I was not getting kicked out of nothing else for weed. The second was that I had still never been arrested and had no record and wasn't getting one. And the third is that I had admitted use, because my recruiter scared me. [He said] 'If they ask, just say you experimented with cannabis,'" laughs Peachie. "He picked me up from smoking weed! Smelling like the plant! He said 'Don't try to lie. They will take your blood and urine'…plus, I had a sensitive job. I worked with weapons, nuclear weapons…I had top secret clearance. Them boys were going to start asking in Pittsburgh and they would find weed, quick."
So, keeping her integrity intact, Peachie admitted to her previous cannabis use and quit throughout her time in the service. While the fear of random testing was very real, the only time she, as an admitted cannabis user, was tested, was when she was pregnant with her son Cameron.
"One time during the whole enlistment of eight years, eight months and eight days of active duty. And I was a whole seven months pregnant with Cameron the first and only time I got drug tested as an admitted cannabis user working with weapons."
Instead of smoking, Peachie turned to a more socially-accepted vice, alcohol.
"I drank instead because it was more socially-acceptable. I substituted alcohol for cannabis. That was a disaster. It definitely ruined my first marriage."
With children, and years of travel under her belt, Peachie began to focus on her life, her love of family, and the plant that she'd abstained from for so long.
"When I got out, I immediately resumed my consumption, however, I was now a wife of an air force member, so I couldn't get him in trouble. I had to keep it on the low…it was horrible. I didn't feel free. I felt prohibition life going on strong in my life...until I came back to Pittsburgh and settled down."
As a native, Peachie's roots run deep in Pittsburgh. After returning in the mid-90s, she brought her children with her to settle down and have a home town.
"Military children are rarely from somewhere," she explains. "They are born somewhere but never return. I wanted my kids to have roots; that's why we came back here."
From then on, Peachie focused on her family and cannabis.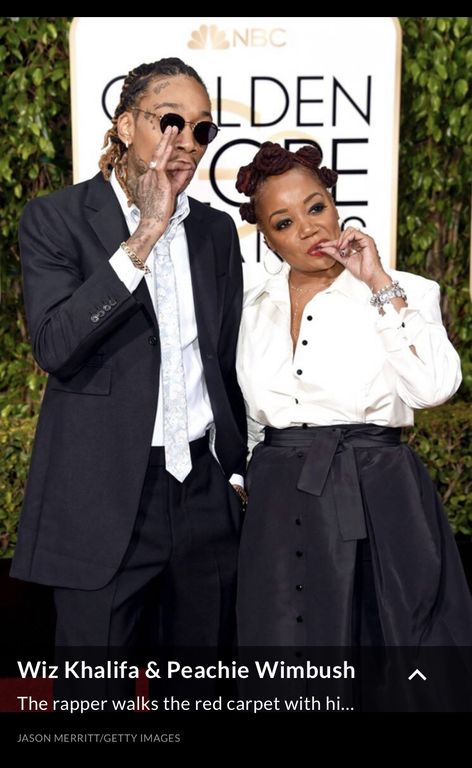 Cannabis & Parenting
Peachie never hid her relationship with cannabis from her children. Instead, she fostered a positive environment and positive associations around the plant, which, unintentionally, shaped how her children, including Wiz, would come to see it.
"I picked up the plant and I was back at it like I never left. Wiz will tell you about how me and his Aunt Pumpkin, my girlfriends from middle school—we're still together, still smoking—they would come over and we would go into my room. They would smell the aroma coming out, and we would come out singing and happy. There'd be music playing and food cooking and laughter. It was always a good time."
This openness about her relationship stemmed from a desire to be honest; she never wanted to be a hypocrite about cannabis use.
"When I become a parent, [I decided that] once my kid decides they want to smoke cannabis, it's going to be cool. I won't be a hypocrite. It's not problematic; it's not a big deal. It has all these healing properties...I don't want him to smoke the cigarettes that I'm smoking, the booze I'm drinking. That's the habits I don't want him to pick up. But cannabis, I don't mind."
Peachie laughs, quick to add that her children, including world-renowned cannabis consumer Wiz Khalifa, still had to go through rites of passage—like sneaking around to smoke and having to steal her roaches to get high—before it was allowed. Once that point was reached, cannabis was a common ground for Peachie and Wiz.
"Wiz and I used to wake n bake together," she muses. "Before school and work at my government job, we would absolutely wake n bake."
Prohibition & PTSD
As she settled into her hometown, Peachie took on a variety of jobs to bring income in and provide for her family.
"I was a jack of all trades, master of none. I went through all of the things a divorced mother with two kids trying to settle back at home goes through after being gone all of my adult life. I didn't have an adult life here. My adult life had been built pretty much abroad. This was the place that raised me; I was back at home, back out on prohibition streets."
As quality of life changed and Peachie had access to mental healthcare, she learned that she had been self-treating PTSD with cannabis since she was 17. As a junior in high school, she found her former neighbor, someone she considered to be like a big sister, strangled and raped.
"Being a young black kid growing up in the hood is traumatic. You see and are exposed to things you shouldn't be...My first memory of community...is actually of the national guard being in the streets of the city when MLK Jr. was assassinated. There were burning buildings, national guard, police presence, all the mayhem of a riot, of a race riot, [and] that is literally my first memory of community."
Both her youth and her adult life in Pittsburgh shaped Peachie's outlook on human rights and the war on drugs, including her time working in one of the oldest prisons in the country, ​​SCI Pittsburgh—aka The Wall.
"Truth of matter is—you can look this up—by every barometer, if you are a black woman in Pittsburgh, if you leave, you and your family do better. There are a lot of systemic barriers here."
Because of these barriers, Peachie often found herself making less money than she should have.
"I was underemployed a lot, and I was not making the money I should have been making. No company was going to put me in charge of anything. No one wants to take orders from a black woman. Not in Pittsburgh."
Fed up, Peachie took her civil service exam, a requirement for getting a job at the prison, and ended up scoring high enough to qualify for the job.
"Because I'm a disabled veteran, I get an automatic 10 point adjustment on my civil service test, which I took to be the employment coordinator at the prison…I made a 99 before the 10 point adjustment, so, needless to say, that was my job."
In her role, Peachie helped enroll inmates in vocational and high school classes, as well as life skills instruction, work and inmate payroll.
"They called me the 'Jobs Lady.' I worked in the belly of the beast…I'd walk by the gate, with all kinds of dangerous people in the yard…some of the most dangerous ones were my best friends, and they really looked after me. They made sure that in the four years I was there, not even one person tried to hit on me or disrespect me, not one time. If anyone said something slick to me or about me, the next time I saw them, they were beat up…they really did have my back."
Peachie's time working in prison, as well as her upbringing in Pittsburgh's projects gave her a different perspective than many, and instilled in her a compassion for victims of addiction and abuse.
"My history and my compassion is for real addicts and real substance abuse...anytime anyone would think about bothering me about my weed, I'd say 'Go fight some real crime. Go bust someone over the head about real drugs."
A War on People
Peachie is a self-described radical. She's passionate about cannabis, but she's even more passionate about dispelling the misconceptions surrounding prohibition and the war on drugs.
"I'm very, very radical in how I think about prohibition for this plant because it was all about money and politics. That's the reason it got driven out of the pharmacies: money and politics. The war on drugs was never war on drugs; it was always a war on people. It still is, and it is unjust, especially now.
"They have to let people go. Let them out of jail, expunge their records. These things must happen. That's the only justice. That's the only thing that makes things right. That's the only thing that flips this on its head...shit has to be given back because much was taken from families and communities. MUCH was taken. People shouldn't have to work for it…They shouldn't have to beg and scrape for it. It's reparation. We over-incarcerate everybody. We know this whole shit was a setup…we know and fail to do something. Meanwhile, dispensaries look like Apple stores."
While Peachie believes that there is a future for legal cannabis, and that all stakeholders should get some cut, she feels that a lack of appropriate avenues for reparations—as well as the state's inability to pass adult use legislation—need to be addressed, because even people with access are still going to their "weed man."
"I still got a weed man...I believe the state should get their cut, but the state hasn't done the right thing. They need to quit fooling around and do adult use. Pennsylvania wants it."
A Mom Who Smokes
Peachie's experiences in the Air Force, prison and early childhood made her determined to shatter the stereotypes surrounding cannabis—and the stigma of being known as a cannabis user.
Peachie's ex-husband, Cameron's father, was a straight-laced military veteran who thought that Peachie and Cameron shouldn't be so open about her use.
"[He'd say] 'Do it privately. Don't let people see you. Don't be public. And I'm like 'poppy-fucking-cock. Weed makes everything better. Be who you are. Let's shatter the dumb lazy stoner myth…let's change the image.'"
Peachie is proud of Cameron's intelligence, and his resulting success, and believes that he's better off because she was open about her cannabis use.
"I am a mom who smokes. I'm a grandmother who smokes. Cannabis made me a better mother, made me a better case worker when working at the department of welfare, made me more compassionate and empathetic to people."
Still a Hippie at Heart
She will be the first to stand by cannabis' medicinal properties, but don't get it twisted, Peachie still likes to get high for fun, too.
"[Wiz and I], we go see stoners movies, How High, Half Baked...we do all the crazy ass stoner shit together as mom and son because I'm not worried about the stuff I can smell. I told Snoop that I'm not worried about the stuff I can smell, I'm worried about the stuff I can't smell. That is the stuff I don't want people on."
As Wiz's career began to grow, Peachie also gained her own following—and began building a network with women in cannabis, like Dr. Dina and Nichole West. She says that it happened intuitively and wasn't sought out. Cannabis has been and remains a part of her daily routine, and it was only natural that she would find her way to other women who had similar relationships with the plant.
"Cannabis is a pillar in my wellness routine. Yes, I am a daily consumer, and my regimen looks like I'm high all day. I'm such an old school girl. I do prefer flower but I do it all; I enjoy all of the ways of consumption. I'm an old hippie, you'll find me with a joint."
These days, Peachie is more likely to be found filling cones than hand rolling joints, but she still prefers papers and won't smoke blunts.
"Usually, you'll find me with a cone. I stopped hand rolling in 2011. That's when I started really using my roller. Then, I ditched the roller and all that equipment once I started getting a good pack on my cones."
As a medical patient, Peachie uses cannabis for relaxation, controlling the pain of her fibromyalgia and dealing with PTSD. She says this guides her selections.
"If I'm smoking a sativa, it's like I haven't smoked at all; I will chain smoke a sativa...I don't get the same relief [from sativa strains] for my fibromyalgia. I'm an old bird, so I have a lot of pain and I have a lot of PTSD. I prefer indica or indica leaning hybrids."
She may describe herself as an old bird, but Peachie still knows how to have fun, traveling and trying out new strains and smoking devices. She tries to be discreet, though, as locals often have a way of asking if she's brought any of her son's famous strains, Khalifa Kush, with her.
"Every time I go to Jamaica, they find me out," Peachie laughs. "I get busted; someone tells 'em who I am, and the next thing you know they are throwing rocks at my patio asking if I have any KK."
Peachie says she smokes the family strain as much as she can, but also enjoys sampling new flavors, remarking that Cookies' Butterscotch had all the bells and whistles she was looking for—as did a mystery strain from BUKU Loud that she got to try while on tour at Red Rocks.
"[There's] some fire from Colorado...when we went to Red Rocks, this kid from BUKU Loud...oh my gawd...butterscotch something, it was crazy…I like snap crackle and pop; all the bells and whistles, smells, tastes, the whole physically of it...that's why I like flower. There's so many senses that you have and it hits all the sensory changes."
Peachie says she benefits from fans that want Wiz to try their weed.
"People like [me] to try it; he gets all this weed and he's never smoking anything but his KK."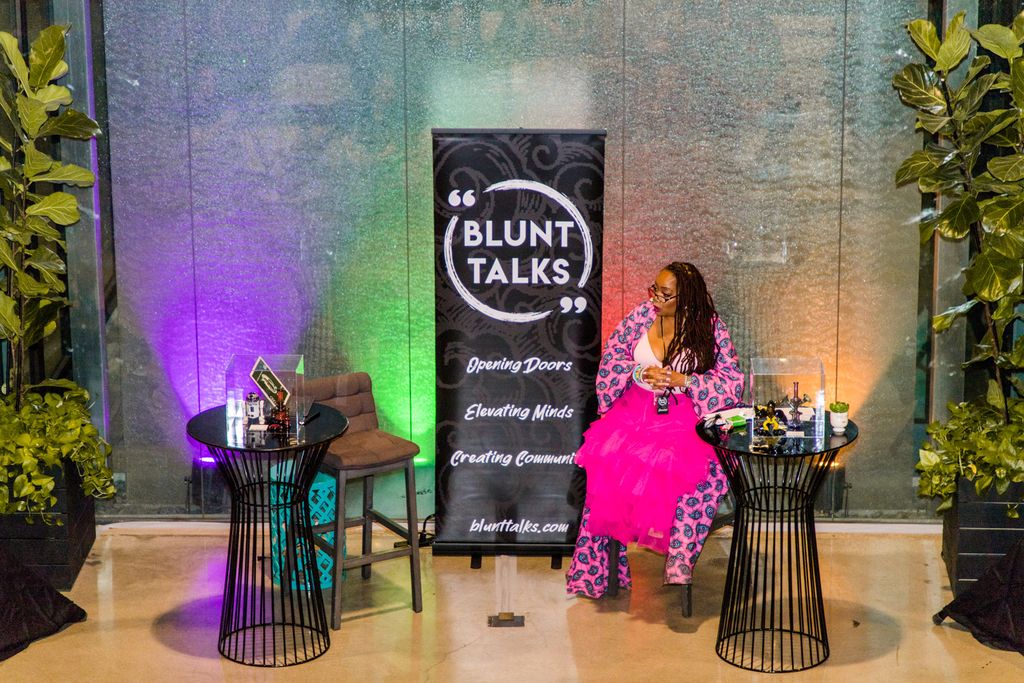 Focusing on Wellness
After spending the Holiday season of 2020 in LA with her family, Peachie returned to Pittsburgh and has begun making plans to relocate full-time at some point in the next year.
"I'm sick of being so far from kids. [Sebastian]'s my only biological grandkid. I'm not happy with being this far away from him; I want to play a bigger role in my grand baby's life."
During 2020, Peachie also picked up a few new titles, including that of published author and wellness retreat leader.
"I get to write and speak about anything I care about. I care about cannabis. I care about the abolition of cannabis prohibition and the social justice and the wellness aspect of it."
Peachie's wellness retreat plans to host its first retreat in June 2022 in Jamaica—and seeks to create a place where 22 women will have the opportunity to learn the wellness benefits of plant medicine.
"This is a new endeavor. When thinking about what kind of retreat I wanted to curate, I curated the kind I wanted to go to," says Peachie. "Out of state cards have reciprocity in Jamaica—it's like California when it was the Wild West; everyone can get a card if you have the money—so my attendees will be able to consume legally."
When asked why the limit is 22 people, Peachie laughs, saying, "I'm not trying to be high around that many people; being elevated is a vibe."
Evolving as a Published Author
Peachie became a published author in the midst of the pandemic and had two projects published in the last year. She launched her Queen of Stones deck, an affirmation card deck, and contributed to an anthology celebrating the voices of African-American women and their views during these times of social unrest.
"I'm a civil rights baby—a civil rights baby can't stay silent when there is civil unrest going on, and the country that she served honorably as a decorated veteran has all the social unrest that was going on. It led me to write an essay, part of an anthology called Meeting at the Table: African-American Women Write on Race, Culture and Community."
The book features 14 different African-American women from every walk of life, including actresses, influential women like Peachie and even the Mayor of Atlanta.
"I am so lucky to be included with these heavy hitters…and you know what I talked about? The drug war, how it disconnected generations…Us boomers need to get over ourselves and quit dictating to you guys like our parents dictated to us. We have to do a new thing to support people."
Her experience writing this essay and publishing multiple other projects led Peachie to begin working on another book.
"I'm just a storyteller and author at heart, and a bookworm."
Family & Cannabis:
Peachie and her family are open about their cannabis use, and while not all of the family partakes, they respect the right to choose.
"My father is a devout Muslim...It is his position that people shouldn't drink or imbibe at all, but he is a kind of spiritual person…[he believes] when you eat, it doesn't make him fat...My parents know, if you come over here, my house will smell like weed. Don't come over holding your nose talking 'ehhh ehhhh.' You know what it is."
The family has gradually adjusted, and doesn't allow it to impede family gatherings or support for each other at shows and events.
"My dad would go to shows during Ramadan and be in the pit…this is a Wiz Khalifa Show, during Ramadan, in the pit. He would just don a bandana across his face; he was wearing a mask before covid...if it's not Ramadan, he gets a contact high and lives his life."
Peachie's mother is a nurse practitioner whose mother was a drug addict. She remained adamantly against cannabis until finally coming around after a back injury. Peachie's openness about her usage as well as her adamance that it would be helpful eventually helped her mother come around.
"You can imagine how anti-cannabis [she was]. But you cannot tell adults what to do in their own home. If you come over here, it will always smell like weed…I'm going to smell like weed going to church. That's how much I don't care what humans think. God knows...My grandmother, me, Wiz, we was stinking, and they were talking shit...we were pariahs...everywhere we went, a damn skunk would follow us.
"[Last October] my mother fell and injured her back, a compression fracture…she asked me for Tylenol…I walked up to her with Tylenol in my left hand and edibles in my right and said, 'This one is bad for your liver, this one isn't. Which one do you want?' You know she took the edibles?"
Since then, Peachie has been making tinctures and adding small doses of cannabinoids as needed, and her mother's quality of life has improved.
"Sometimes I just give CBD; she's still in a lot of pain. My 74-year old mom using cannabis who was totally against it! My middle sister was totally anti, but her daughter is a patient. I'd rather she be on that than on pain meds."
While the family is slowly coming around, Peachie is quick to remind that no one can keep up with her and Wiz, though.
"Everyone has really come around, but no one is blowing it by the O like me and my Sonshine."
Peachie is helping get those around her to replace their pharmaceuticals with cannabis.
"You know what's crazy? My son's travel agent, do you know her 80-year old mother had her call me and ask me if it was ok for her to take 5-10mg? I got her off sleeping pills! I'm getting people off meds."
Having personally ditched the medicine bottle in 2012, Peachie is proud to help proclaim the wellness benefits of cannabis.
"I was on 14 different pills for this, that, or the other…I ditched my medicine bottle for cannabis exclusively and I haven't been back."
All Rights are Human Rights
In addition to her advocacy for cannabis, Peachie is a staunch supporter of human rights; all human rights. That includes her fight for impoverished youth and the LGBTQ+ community, to which her daughter, LaLa, belonged.
"I feel like all rights are human rights. Whatever group you belong to, the rights that you deserve are human rights. So that's always been my stance. Being the parent of a transgender child really laser-focused my activism there. The world is so hateful; I was terrified. I was always terrified that someone would do something to my kids. There's nothing that my children could do or be that would make me turn away from them as a parent."
In a time when society was less progressive and the world less accepting, Peachie created a safe space for youth of all backgrounds and identities.
"It was real easy for me to fall in line and also be a safe space for the other kids, the other gay and trans kids would come over because there were no other spaces. It would not be strange to see hairy chested men with negligees on in my home...they were just expressing themselves and weren't hurting anyone."
Deep down, Peachie's desire is to allow everyone to have dignity, even in death.
"I just believe humans deserve dignity, and in LaLa's memory, that's the only thing to do. That's the only thing to do in her memory is to create more safe spaces for kids that are cast out."
This is the basis of the CindereLaLa Foundation that Peachie hopes to found, and the motivation behind LaLaWeen, Peachie and Wiz's annual celebration of LaLa's life.
"LaLa started living as a woman at 15, that's high school," Peachie reminds. "You gotta know that was brave, and, like I said, scary. On her birthday, she's a Halloween baby, we throw LaLaWeen...that was really Cameron's idea to keep me from crying and being balled up in a corner somewhere on Halloween."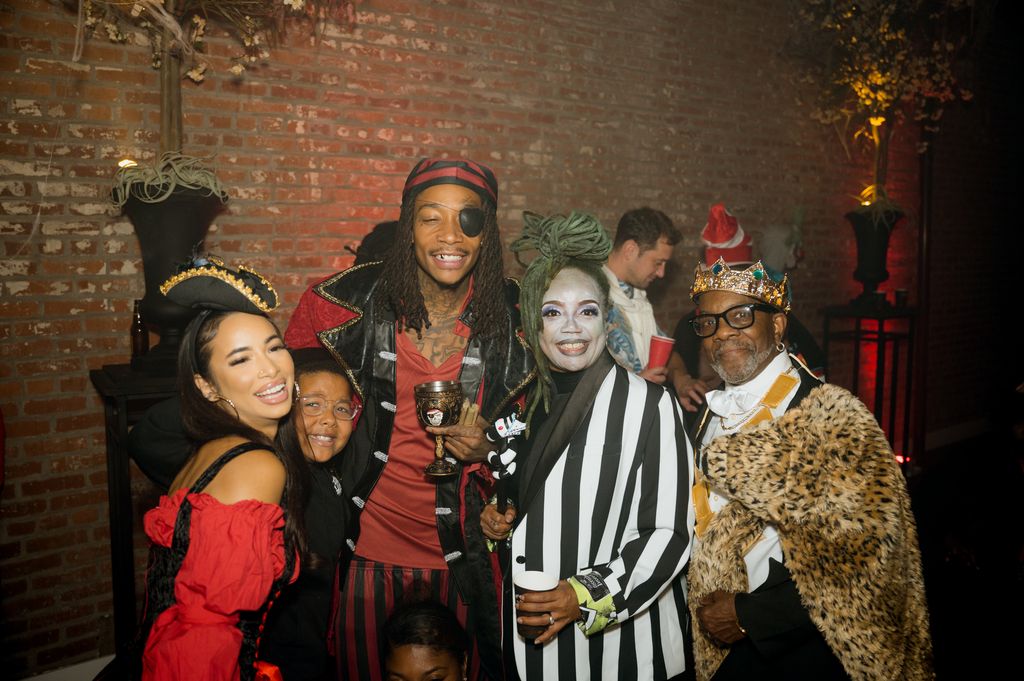 Supporting What You Love
In addition to her efforts to support the LGBTQ+ community and celebrate LaLa's life, Peachie is also active with a variety of nonprofit efforts to improve the community and empower people.
"Since I'm retired from the commonwealth of Pennsylvania, I get to support all the shit I love."
This includes Gwen's Girls, a program for at-risk youth.
"That used to be me. I mentor girls through that program because that used to be me, a little girl from the projects."
She also supports DoWork, a Pittsburgh-based charity that benefits a community in Haiti by providing necessary job training and support.
"The premise is that there is dignity in work. Being a former human resource manager and employment specialist, even in a penitentiary...I know how attached people are to their dignity and their ability to feed their kids and family...that's what everyone wants: they just want to take care of their family. DoWork creates job training and support to uplift families out of poverty in Haiti."
Sadly, Peachie and other volunteers have not been able to go visit in recent years due to increased violence and the pandemic.
"We would go every year…The annual charity was a run across Haiti...200 miles from north to south. As a volunteer, I would go and be on the cheer squad, be on streets and wait with a cowbell and intercom mic, cheering on...it was WILD."
Finally, Peachie also supports the Bartko Foundation for single black mothers. As a single black mother herself, and former case worker for the Department of Welfare, she believes in the organization because it provides support where traditional assistance does not.
"A neighbor introduced me to that particular organization...Bartko would supplement specialized stuff you couldn't get if you were getting financial assistance like a washer and dryer. If you're not in a special program, these are things you couldn't get…People are just trying to get their footing and something as small as not having a washer and dryer at home, having to schlep 5 or 6 kids for laundry, that becomes a barrier to their success. I'm always lending my support to anything that lifts up families."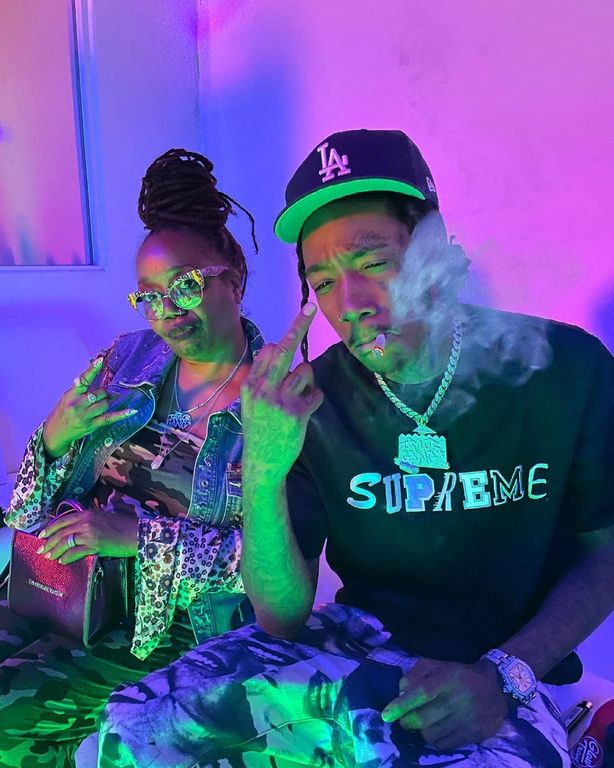 Leave the World Better Than You Found It
If there's one common theme in Peachie's life, it's that she is committed to leaving the world and the people around her better than she found them.
Peachie's belief in all human rights, advocacy against prohibition and the harms it continues to cause and personal history as a civil rights baby—turned decorated veteran and strong single mother—have only amplified her efforts to give voices to those without.
"Little black girls from the projects don't have platforms necessarily," Peachie says. "I vowed that if I ever got one, that that is who I would always speak for. That's the voice I would amplify. Because that voice is my own."