Emerging Markets: Oklahoma
The current state of cannabis in the Sooner State
In 2018, Oklahoma became the 30th state in the U.S. to legalize cannabis for medicinal use.
57% of Oklahomans supported legal medical cannabis.
The broad provisions of State Question 788 opened the floodgates, and quickly gave rise to one of the fastest-growing markets in the nation. But, with hundreds of thousands of licenses and only four million people in the entire state, a surplus of supply gave way to a price race to the bottom. Growers that continue to focus on ways to differentiate themselves and withstand the ebbs and flows of demand will be the ones best-suited to the storm.
The state has since tightened regulations in a variety of ways, most recently with the implementation of state-required seed-to-sale tracking (often known by the program's acronym, METRC) as well as the enactment of a moratorium on new business licenses until August 2024.
The ETHOS team visited Oklahoma in the spring of 2022, where we chatted with countless growers and consumers about the state of the market, what they look for when purchasing, and which brands have earned their loyalty. We met with the head growers and owners of Greenleaf Cultivations, ALTVM, and Zenoa Cannabis—who all shared the consensus that, while the market may currently be saturated with average-quality product, focusing on a niche and producing a product that stands out is the best plan for surviving.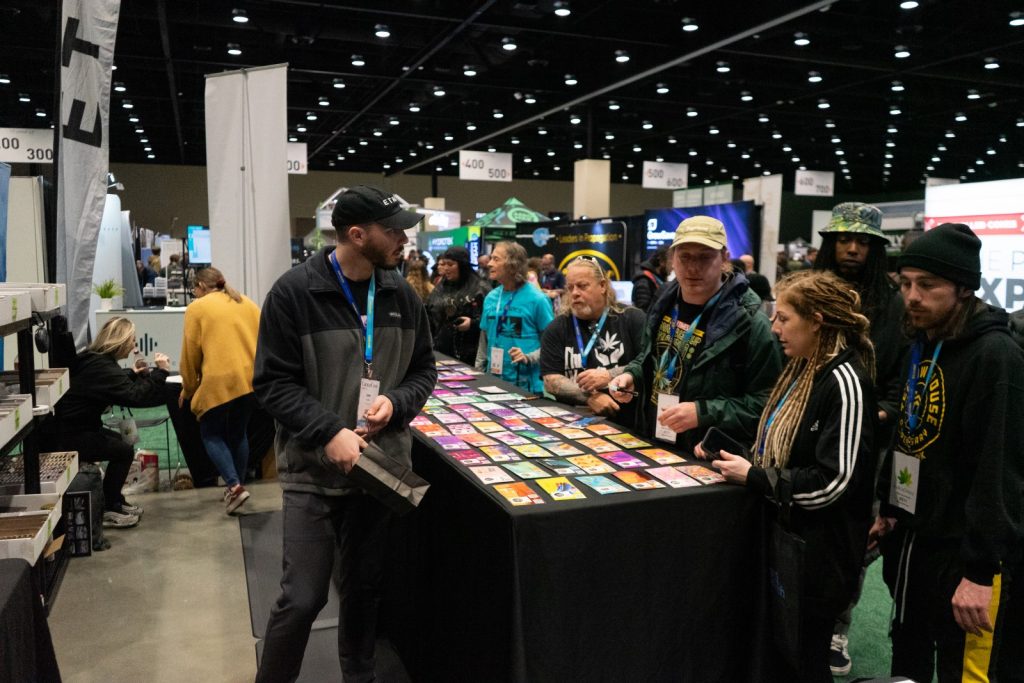 Oklahoma's Medical Laws
Under OK Law, individuals 18 years of age or older with a valid Oklahoma medical card can purchase up to three ounces of flower, one ounce of concentrates, 72 ounces of edibles, six mature plants, and/or six seedlings/clones.
Possession is limited to three ounces per person, but you can have up to a half pound at home. Similar to purchasing, you are allowed six mature plants and six clones per patient. Additionally, out-of-state patients with a valid medical recommendation can get a temporary Oklahoma medical card that allows them to legally possess and purchase while in state (can be renewed indefinitely).
Commercially, it was one of the easiest states to get a license in the cannabis industry.
All you needed was $2,500 and a valid form of ID proving residency. Plus, there are no plant count limits for commercial operators, a departure from most other markets, as well as a significant advantage for pheno hunts and breeding. And the state licensed just about everyone, from hobby growers with a 4x4' grow tent to large-scale operations with 150,000 square foot warehouses.
"$2,500 and a [driver's] license and anyone could do this," Doc of Greenleaf Cultivations points out, recalling his first Oklahoma CannaCon in 2019.
"I was at a booth, asking a commercial grower what lights he was running, and he said, 'We've got an LED...we're running an LED in a 4x4.' That's a guy growing in his closet that bought a license and is not a legal commercial cultivator."
They have since amended this to adjust the fee in relation to the square footage of your canopy (office and administrative space excluded).
As of June 9th, 2022, there were 11,289 cannabis business licenses in Oklahoma.
7,399 Cultivation licenses (Colorado has 468)
2,286 Dispensary licenses (Colorado has 446)
368,218 Medical Patients (nearly 10% of the population)
The amount of potential cannabis that can be produced far outweighs the demand of the patients, which has led to a surplus of cheap weed and a price race to the bottom.
"At one point, we had almost 10,000 growers," recalls Doc. "10,000 growers for a state that has 400,000 patients. So, that's 40 patients per [grow]. And we could do 140 pounds a month. So that's 3-4 pounds per month per patient per person."
When the ETHOS team visited Oklahoma, growers and consumers alike made it apparent that the burgeoning market was hyper-focused on potency; consumers want the most THC for the lowest possible spend.
"I'm blown away that, because of price, someone is like, 'Well, I'll smoke that because it's cheaper.' That's not how you eat food. Oh I'm going to have that burger because it's half the cost. It's crazy that it's become this," says Doc.
This mentality has carried over to other products like concentrates, which have adjusted to cater to these demands. While producers like Doc focus on high-end, quality material that goes into live solventless, they've also adapted to find ways to meet the affordability demands of the market. Doc, for example, started offering cured solventless products made from trim material that can compete at a price point with hydrocarbon extracts and introduce customers to different extraction methods.
"We make money on cured [rosin], we lose money on live [rosin]," explains Doc of their solventless product lines. "Hash rosin is the hardest thing to sell right now because you can go get 10 one gram [BHO] carts for $100 but who knows what it's cut with."
Unlike other states, a large portion of Oklahoma's cannabis industry is made up of agricultural farmers who are transitioning to cannabis.
These are farmers who have grown traditional crops like corn, wheat, and cotton, who are now growing large fields of cannabis and hemp outdoors. But this lack of familiarity with the crop, and the ease of entry into an industry enshrined with "get rich quick" motivation, has further contributed to the flood of sub-par product, much of which is sitting in storerooms degrading as we speak.
In addition to farmers, Oklahoma's ease of licensing attracted legacy operators from all over.
Caregivers and legacy market growers flocked to OK, many in pursuit of an attainable path to licensing. OK's early oversight surrounding seed-to-sale tracking also attracted those who wanted to supply non-legal markets while growing legally. Three years in, the market is now seeing MSO operators like Cookies begin to enter the market through partnerships with existing licenses.
"There's a bombardment of grows...but the issue is that so many people are sitting on 300 pounds and can't get rid of it and will take $500," Doc explains. "But you realize it was ~$625 to produce that. So you're now losing money. You're recouping on inventory, but you're not making any more. And then you come to the point where the market is doing better and now they want $1,000 for that. Well, you aren't going to get that because you sold it for $500 before."
Even the high-end market has seen a decline in pricing.
Back in 2019, high-end products were fetching upwards of $3,000 per pound (some exceeding $5,000) at wholesale. Now, those prices have sunk to the $1,500-2,000 range. And, again, if it isn't high 20s or low 30s in THC content, it's not even considered.
The state's surplus of product has also elevated the risk of crime for licensees, allowing for permissive gun laws that are not seen in other markets.
Due to the high risk of robbery at all levels of the supply chain, Oklahoma specifically legalized the ability for patients and operators to carry a weapon. The "Unity Law," which explicitly states that patients and licensees cannot be denied their right to bear arms, was signed into law by Governor Stitt in 2019.
Staying Ahead of the Curve
With prices falling and demand volatility, the growers that are powering through are the ones focused on efficiency, quality, variety, and innovation.
"It's weeding people out and making people get really efficient here," adds Nick Reed, Co-Owner of ALTVM. "If you can survive here, then you can probably survive anywhere that you can get a license because this is the lowest wholesale pricing [in the country]."
Everyone has had to become more efficient.
"We built one room out at a time, harvested that, and then built the next room," says Dave Dodson, Founder and Head Grower of ALTVM, who came to Oklahoma after working for years in Michigan's medical market.
Top shelf indoor facilities and lower quality outdoor operations have both had to identify aspects of the workflow that can be improved, replaced, or eliminated.
Low margins leave no room for waste. Optimizing your inputs and outputs to align with current market conditions is key, and many facilities have scaled back their outputs to deliver the same quality without the surplus.
"We went from 4 to 2 rooms, and then I made the decision to do a hard reset and had time to do it because we were sitting on some weight," explains Doc. "There's no such thing as easy money. I've been here seven days a week for three years. I ran this place for eight months by myself and that almost killed me. Now, I run a skeleton crew of four guys, and I'd put it up against any crew."
Quality becomes the differentiator.
"My philosophy is I'm not a THC chaser, I'm not a size chaser," says Doc. "I don't care about quantity. Does it taste good? I'm all about flavor. I'm all about smell. I'm all about effect."
If you've got two (or ten) bags of flower that all test high, the one that looks the best, smells the best, and tastes the best is the flower that will always have a demand. In a market of more than 7000 growers, the fiercest competition happens in the top and bottom 5%. Dialing in your setup becomes imperative to continued success and sales.
"I know if I produce fire, then it's going to sell. It's all about putting in the work up front and putting out the best product possible because that's what you genuinely want to provide people with," says Zanon, the owner of Oklahoma City-based Zenoa Cannabis.
"If you grow really good weed, people are always going to want really good weed," adds Reed. "That's the way to defeat the market falling out; if you have the absolute fire, it's still going to sell."
Consumers get bored easily; variety is key to keeping their attention.
When we visited OK, seed-to-sale was about a month away from implementation, and every licensed grower we talked to was in a mad dash to acquire as many genetics as possible beforehand.
"Once METRC takes effect, we will no longer be able to buy seeds online. You'll buy them in a dispensary," explains Doc. "They have to be made here and sold to a dispensary here."
Brands that are constantly pheno hunting and sourcing new genetics based on consumer preference will maintain their market share.
"I started growing weed because it was interesting to me, and pheno hunting is what keeps it interesting," says Zanon. "Constantly having new strains coming through is what keeps it interesting."
Operators that look for new ways to approach the industry will succeed in this saturated market.
For some, that means in-house breeding projects that expand their palette of offerings. For others, that means partnering up with like-minded licensees for shared distribution models and co-owned facilities, including a dispensary in downtown OKC that Dodson and Zanon are part owners of.
"They got a small piece of the dispensary, and a small piece of the grow, and we got the money to bootstrap and build out one room at a time," explains Dodson of the arrangement with Zanon and other business partners.
In the next few years, Oklahoma's market will be reduced to those that never stopped pushing the bar higher, and those that had the wherewithal to withstand the storm.
Sources:
Can I Own A Gun And A Medical Marijuana Card In Oklahoma? (2020, June 21). MMJ Recs. https://mmjrecs.com/own-gun-and-medical-marijuana-card-oklahoma/
Legislative Updates. (2022, June 9). Oklahoma Medical Marijuana Authority. https://oklahoma.gov/omma/rules-and-legislation/legislative-updates.html
Oklahoma State Question 788, (2016). https://www.sos.ok.gov/documents/questions/788.pdf
Project, M. P. (2021, May 27). Medical Marijuana Patient Numbers. MPP. https://www.mpp.org/issues/medical-marijuana/state-by-state-medical-marijuana-laws/medical-marijuana-patient-numbers/
Where Oklahoma Places in the U.S. News Best States Rankings. (n.d.). US News Best States. https://www.usnews.com/news/best-states/oklahoma