Emerging Markets: Thailand
The Current State of Cannabis in Asia's First Legal(ish) Hub
Until recently, Thailand had the highest rate of incarceration for drugs in Asia. Then, in 2022, the nation de facto legalized cannabis and is anticipating ฿28 billion ($745M USD) in cannabis revenue this year alone.
Here's what happened.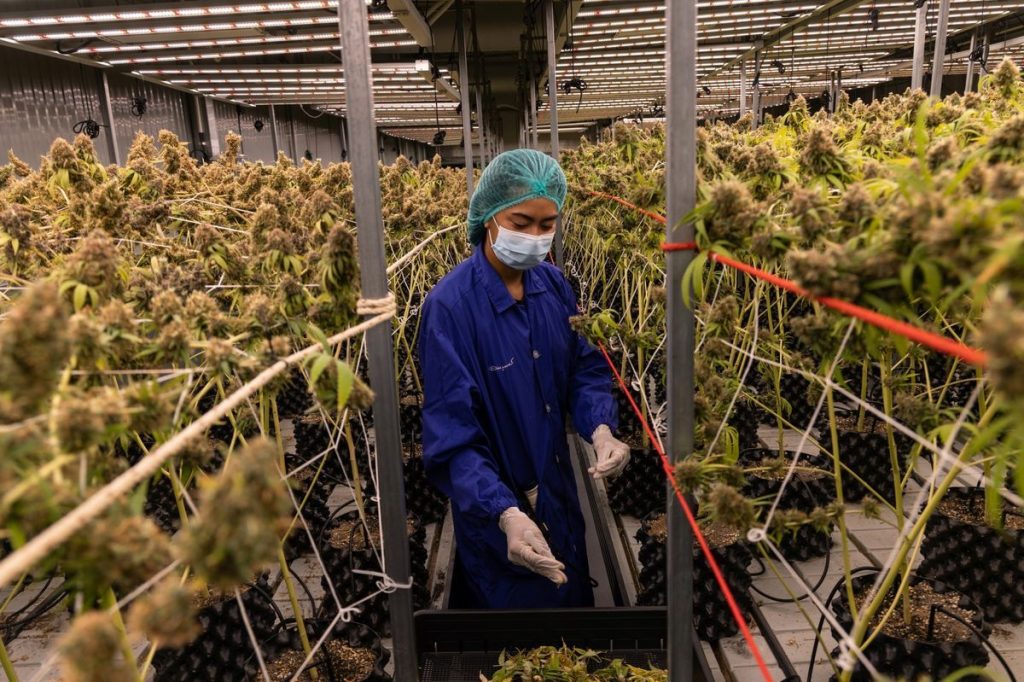 In 2016, Thailand's then-Justice Minister Paiboon Koomchaya conceded that "world has lost the war on drugs," a mentality that continues to grow. In 2018, the country legalized medical cannabis, allowing the cultivation, sales, and consumption by those who found medical relief.
Then, in June 2022, Public Health Minister Anutin Charnvirakul removed cannabis from the country's narcotics list, effectively deregulating the plant.
A month later, the government issued a million certificates to growers, granting them permission to cultivate their own cannabis.
But the lack of established regulation has also caused confusion, both for consumers and law enforcement.
While decriminalized on paper, unless you are a medical patient, cannabis activities remain illegal in many cases. Medical cannabis is legal; everything else is a grey area. While the Public Health Minister did release 3,000 drug offenders from jail, the Thai police also arrested a 56-year old woman for a single pot plant in her bedroom (which the officers were eventually disciplined for).
And while it may look exciting from afar, public officials have made regular attempts to discourage cannabis tourism, reiterating that public consumption (even in so-called smoking lounges) can still land you a fine and up to three months in jail.
Thailand's Cannabis Laws
In short, the only truly legal cannabis in Thailand is medical cannabis; everything else is largely unregulated.
But it is more nuanced than that when you start to dig into the laws, which have changed almost monthly since the plant was descheduled in June. In order to use cannabis in Thailand, you must be 20 years old, not breastfeeding, and not pregnant (additionally, practicing Buddhist Monks cannot consume or possess except for "medical relief").
Thailand is a flower market.
Legally, cannabis must remain in a non-processed form. Extracts and edibles with more than 0.2% THC are explicitly prohibited. Otherwise, Thailand explicitly legalized all parts of the cannabis plant, including leaves, stems, tissue culture, and seeds.
And while imported cannabis products remain illegal, Thailand is issuing export licenses for legal producers (export is only allowed to countries that have legalized import).
Legally, you can cultivate cannabis so long as it is for medical purposes and you register with the government. You do not need approval; you just have to let them know what you're up to.
The 0.2% cap has slowed on-market extracts and edibles. While the Thai government is issuing licenses for extraction and processing, products produced must be CBD-focused and maintain the low-concentration-by-weight requirements.
Public consumption remains illegal, punishable by a fine and up to three months in jail.
There is a rampant grey market of suppliers satisfying the needs of citizens and visitors alike, but be forewarned, smoking lounges, pop-up shops, and public smoking are all ticket-able offenses. Thai authorities are using the country's 1992 Public Health Act to sanction offenders under the guise of nuisance violations, a wide category that is largely subject to officers' discretion.
And, with legal (and illegal) cannabis businesses popping up everywhere, the Public Health Minister has further expressed his openness to a legal recreational model for all adults so long as the Thai people support it.
How The Market Looks In Practice
To find out what was really happening in cannabis on the streets of Thailand, we spoke with Top Dawg Seeds and Thai Terps about their experiences in the country's quasi-legal industry.
Most product being bought and sold (and smoked) in Thailand is imported from the United States.
Our sources made this very clear: domestic supply has not caught up to demand. With licenses only starting to be granted in July, even the fastest autoflowering plants weren't being harvested until late September, months after the streets and shops began offering their wares. Much of this product is coming from legal markets abroad and being imported, generally with the assistance of some paid-off law enforcement.
The industry is still in its infancy, as is the understanding of products.
The Thai market is largely unfamiliar with terpenes and qualities beyond price and potency. And while it is a medical program by name, qualifying as a medical user is based first on age, second on maternal condition (not pregnant or breastfeeding). Beyond that, anyone can qualify. As Thai Terps adds, "Regulation and oversight stops after license."
In order to acquire a cannabis license, Thai citizens must have majority ownership.
The government has put into place measures to avoid international exploits in major industries like tourism, and those protections extend to cannabis. Foreigners cannot own more than 49% of each license in Thailand.
There are 4 main types of licenses for businesses:
Cultivation
Processing (primarily CBD/low-THC extracts)
Sales
Export
Any licensee can apply for any or all of the licenses. Thailand allows legal export of cannabis products to countries with the ability to legally import.
The cannabis industry still relies on government corruption.
On multiple occasions it was apparent that Thailand's cannabis industry (and culture at large) rely heavily on cops, officials, and agents that regularly accept bribes and payouts. This ranges from bribes to look the other way at smoking lounges, to bribes to avoid enforcement of prohibited products (edibles and extracts), and even to the process of importing cannabis products into the country. Imports come from places like California, where the majority of all imported product is currently coming from. Even Thai university studies have found upwards of 75% of product currently available was imported.
As of now, there haven't been any notable raids or sweeps that our sources were aware of, but it is anticipated that, as laws evolve and markets mature, the government will follow suit of those before it and up its enforcement efforts to protect tax revenues from licensed operations.
The only extracts you'll see (openly) are pressed kief, Nepali Charas hand rub, and pressed hash.
These solvent-free, minimally-processed options are offerings in-between flower and the extracts popular in other countries, but the owners of these places are likely incentivizing law enforcement to look the other way. Live resins, waxes, rosins, and similar refined materials are still very much illegal if they contain more than 0.2% THC.
You can legally sell clones, but seeds are the main market.
Some seed banks are starting to open up and many locals still buy seeds over finished product. The main markets are feminized and autoflower seeds, and growing from seed is much more common than growing from clone due to level of market understanding as well as current availability of supply. While businesses like Thai Terps are working to bring clones onto their shelves, Thailand is far from having an established, reliable nursery network to source from.
There are lots of fake products.
Some are simply domestic brands copying foreign culture, like the Thai cannabis brand Local Boys, reminiscent of California's famed Jungle Boys. Others are outright fakes and repacks; everything from flower to seeds could potentially be fake.
Restaurants are getting in on the cannabis action.
According to Thai Terps, many restaurants in Thailand are both infusing food and selling flower. With edibles being defined by weight, some restaurants offer the option of THC or CBD foods, while others sell small "single serving" cups of lower tier flower.
The biggest challenge growers face is humidity at the end of bloom.
The humidity is consistently high in Thailand, and, during rainy seasons, they can get multiple hours of rain every day. At the end of Week 5, beginning of Week 6 of Flower, that can present issues like bud rot, molds, and mildews. Many are growing in greenhouses, but then deal with the humidity factor during dry and cure. Warehouses are being set up, but—with the lack of notice surrounding the descheduling and the more intensive upfront investment—are slower to get off the ground.
The demand for cannabis tourism is high.
Bangkok alone welcomes upwards of 30 million tourists a year. Now that you can shop around, the demand for high quality cannabis is starting to be fulfilled. Ironically, for a country outwardly expressing a distaste for cannabis tourists, many suspect this to be a motivating factor in the Minister's decision to deschedule.
"The main reason that Thailand [descheduled] is tourism. Southeast Asia has some of the highest tourism rates in the world. But instead of that industry slowly coming back to Thailand, it is spread out over other countries like Bali or Vietnam. By being the first asian country to make cannabis legal, Thailand makes people come to her before considering other destinations," explains Thai Terps.
With that said, there are many businesses that misrepresent themselves as cannabis friendly when appealing to international travelers, such as hotels, in order to try to capture this latest income source.
Top Shelf is a Tourist Market.
The most expensive cannabis will typically run you ฿900 ($25 USD) and is almost exclusively sold to tourists, many of whom buy larger quantities than locals.
"Its a tourist market," begins Thai Terps. "Many locals do not spend the money for top shelf. The local market here is mainly seeds; locals want to grow it themselves, the same way we all did when it first became legal in our state. They think, 'Why buy it? Let's grow it.' Locals will buy top shelf product, but they don't go to the stores; they go to friends and fellow growers who will sell it to them for wholesale prices, often half of what shops charge. The average wage here is ฿800 a day, so if they are coming to the shops, they are usually purchasing lower end products. Most people buy grams…anything past an 8th, and I won't say people aren't buying them, but people don't walk in asking for ounce prices…Most people that come in and buy more than an 8th at a time are tourists, but they still buy by the gram and 'mix and match' up to a half ounce."
Thailand's market has yet to be tapped by most international brands.
Aside from a few seed banks and Cookies' efforts to launch in Thailand with Sukhum Exotics, most international brands have yet to set up shop. This is also creating somewhat of a race for those interested, hoping to get in before any further changes take effect preventing them from doing so.
Smoking clubs are everywhere, but also a risk for tourists.
Our sources caution that licensed businesses and locals are at much lower risk of having an issue with law enforcement, and much better accustomed to the cultural transaction (bribery) taking place. Cops will often give tourists a hard time for smoking, but "often just want ฿200-400 from you." The most brazen clubs and businesses operate in Thailand's two main red light districts: Na Na Street and Carson Road, with pop-up businesses and buses selling cannabis, nitrous, alcohol, and more. "At some of the smoke places, you will see signs that say, 'Safe to smoke. Don't worry,' that means they paid the cops."
Vapes are illegal in Thailand. All of them.
Whether it is nicotine or cannabis or CBD-only, vapes are illegal in Thailand. They are not illegal to possess, but all sales and use are illegal. According to our sources, "a dab is equivalent to heroin [in Thailand]," which makes cannabis extracts in vape format a severe legal risk. Like all cannabis infractions though, you are more likely to get a nuisance infraction than anything else.
Most sales take place online, through couriers and online platforms.
This is true for both cannabis and cultivation supplies. The majority of local suppliers and buyers interact on online portals where you can order from a supplier who will drop the product with a courier who then brings you your order. It's delivery pizza for weed. And it happens everywhere—from Instagram and WhatsApp to regional marketplaces like GrabExpress. Grow supplies most often come from Asian wholesale marketplaces like Alibaba or Lazata where you can buy grow lights, pots, soils and nutrients.
The biggest concern of the industry is that the future is unknown.
As the co-owner of multiple cultivation, extraction, and retail licenses, operators like Thai Terps are worried about political tensions that could shift cannabis policy. While the current Minister's openness has been welcomed by the industry and many Thai citizens, the rival political party staunchly opposes its legalization and widespread use, something that could affect business operations. These groups continue to encourage talk of (and express urgency for) increased regulation surrounding the industry and its ability to protect children from accidental consumption after multiple scares with cannabis hospitalizations.
Time will tell how Thailand's cannabis market matures, but it's quasi-legal approach to cannabis has catalyzed a passion among growers and consumers alike and drawn attention to this Asian tourist destination.
Sources: