The Story of R4
How an unknown cultivar was stolen, renamed and popularized as "Charlotte's Web."
Meet the man behind R4, or, as it is more commonly known, Charlotte's Web.
No, I'm not talking about the Stanley Brothers, though they're part of the story.
Meet Two (aka The Seed Kompany), the man who found the unknown cultivar that tested off the charts for CBD and became synonymous with the young girl who found relief in it.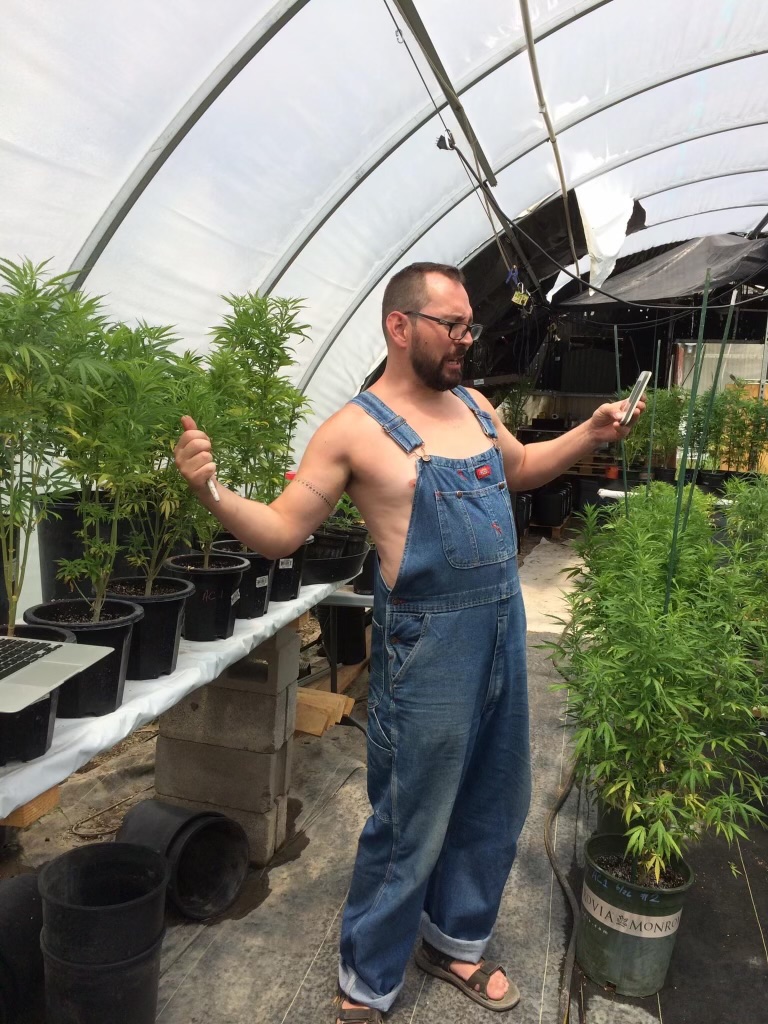 Ohio Brick Weed
Two started smoking and growing cannabis in the mid 90s in Ohio, where weed was hard to come by and the quality, questionable.
"My buddy and I, the first quarter I ever bought, we went in on a quarter of a brick," recalls Two, explaining that it took them so much time and effort that it might be easier to grow it.
"We thought we could grow it easier than buying it. So, I went to the hardware store and got a plant light and cleared out my closet."
Shortly thereafter, his mother caught on to what he was doing.
"My mom said, 'You know I'm from the 70s and those aren't orchids! If you are going to be selling weed, you can't be doing it in my house,'" he remembers fondly.
Once he started growing, Two quickly realized that getting seeds (that weren't included in your brick weed) was even harder than getting weed, so they started making more.
"This was mid-90s, in a little closet, and having two 400W lights was like WOW. As we moved up to a few thousand watts, we started making some seeds just to work with. [Previously], my friends had to meet Mark Emery in a seedy hotel room just to buy seeds."
Because of this, Two often sourced seeds directly from Amsterdam.
On his 30th birthday, Two was traveling to Amsterdam for this reason, and ended up meeting Adam Dunn, of THSeeds and the Adam Dunn Show. This friendship would eventually lead to being roommates years later, and even a cup victory on a return trip to Holland.
From Ohio Closet to Colorado Dispensary
In the early 2000s, Kelly Roller, one of Two's friends from Ohio, invited him to Colorado to grow legally at GreenWerkz. Kelly reached out to Two and shared that Two's samples were what the grow was looking for, recruiting him to move out to Colorado and give life to the seeds he'd been collecting.
When Two moved from Ohio to Colorado, he brought with him a small collection of genetics that he intended to test.
"I collected all of the genetics from all of my friends that I knew and came out here," recalls Two.
Testing The Difference
The main difference between growing in Ohio and growing in Colorado in 2009 was testing, which would allow them to better understand and record their efforts.
"Back then, that was 2009, and GC's in Ohio weren't available [to cannabis growers]," Two explains.
Around this time, Two moved in with Dunn in Denver and began experimenting with the effects of electricity on cannabis plants.
The pair's award-winning "Electric Lemon G" (Lemon x G-13) gets its name due to the literal electricity being pumped into the plant.
The experiments with electricity started by submerging a heating mat in water (not recommended) and they eventually decided to enter it into the 2011 High Times Cup in Amsterdam.
"I won the Cannabis Cup in 2011 in Amsterdam for THSeeds by electrifying the plants with electricity."
"You know it says 'don't immerse in water' but I thought 'what do they know?' As power started coming from the heating mat, I'd run my hand over the plants and feel a shock. I took my electric field detector and all around the plants were running at 62V all the way to the top of the plants."
The Turning Point
Testing allowed Two and the GreenWerkz team to hunt through a variety of genetics with more precision than they had previously.
Among the cuts being hunted were the R1 and the R4.
"They were actually the WU1 and the WU4," laughs Two, "but my handwriting is ridiculous." The WU's were made by a fellow grower and breeder in Ohio, known as Wu-Tang, or Wu.
Except this time, when the tests came back, Two wasn't given the results. He was asked to leave GreenWerkz, and was not allowed to return to the facilities to retrieve any of his belongings.
Two would soon find out that the tests showed the highest concentrations of CBD to date.
Simultaneously, Dunn called Two, explaining that Joel Stanley and Kelly Roller (the guy Two moved to Colorado with) had just stopped by, trying to get into business with their CBD genetics. "I told them to 'fuck off,' and now I'm calling you to tell you about it," Two recalls Dunn saying.
While it is unclear as to the exact chain of events, Kelly Roller worked at GreenWerkz and was able to source the cut for Josh Stanley without Two's involvement. From there, R4 was renamed "Charlotte's Web," and the rest is history, leaving Two without any claim to its success.
WEED
As someone who admittedly has struggled with depression and stress throughout his adult life, Two was thrown into a whirlwind by the series of events. As a teenager, he'd kicked pills for cannabis, but life's latest curveball was testing his limits.
"I lost my mind. I was angry to say the least. I was drinking heavy; I was partying," he recalls. "I was going to come out here and be a weed millionaire, and, instead, they took all my work, ya know?"
A few years later, in 2013, Weed with Dr. Sanjay Gupta came out on CNN. America's views on the medical benefits of cannabinoids were rapidly changing, thanks to influential patients like Charlotte Figi.
"My buddies were all like 'Watch it,'" Two says of Dr. Gupta's special, but recalls that he was too angry to do so. "I saw the previews and I could see that those were my plants. They had a variegation—the R4 has a very profound variegation. Those were my plants; I could see it."
Eventually convinced to sit down and watch it, Two was brought to tears.
"I started crying," he begins. "This one girl, amongst all these others, was living a much better life because I did something. That alone was enough."
It was also enough to get Two out of the rut that the R4 had caused—and back to working genetic lines that are high in minor cannabinoids.
With the help of Adam Cooper, he worked to strengthen CBD-dominant varieties and make them more attractive as a plant and product, taking the R4, Cherry, Canatonic, and Harlequin and breeding them in his backyard.
"I went to the Emerald Cup and sold the seeds that built CBD hemp in America," Two proudly states. "All I got is the story, but I wish I had some money from it."
Genetic Lineage of R4 (AKA WU4 AKA Charlotte's Widow)
R4 = Reclining Buddha x C.R.E.A.M. (Afghani x Jack Herer)
Two believes that the high CBD concentration comes from the genetic work Alex at Resin Seeds was doing. Alex was Soma's son-in-law, and Soma's Reclining Buddha was his main project before he passed away.
Looking Forward
Now, Two is busy working on alternate delivery methods for cannabinoids. One such project involves developing suppositories for rectal cancer treatment.
"We just beat some dude's Stage 4 Rectal Cancer," Two boasts. He had previously told his landlord's friend, a retired SWAT officer, that if he ever got cancer, to come ask for help. He finally did, and they continue to joke about the situation, adding "I'm boofin' weed now!"
Additionally, he is building out a new genetic line with Duke Diamond focused on crossing a variety of legends from both catalogs.
"Now, we have [Duke's] gear coming in…We are getting all these crazy old varieties like Hash Plant and high end strains that aren't hype and we are about to put together fun THC strains and some CBD options too."
Breeding With Intention
Two is also working on some regionally-focused breeding projects..
"I'm basically down in the San Luis Valley, and I had some problems a couple years ago. I got to meet the cops, they came through my house and got to see what I have going on…Now, I bought my building, and I live here because I feel confident I can do my work without being fucked with. Now that I'm a legitimate farmer with the USDA because it's federally legal now."
Even though he prefers to work indoors with cannabis, access to grants allows for hoop-houses and outdoor grow experiments that otherwise wouldn't have been possible, including Two's work breeding specifically for the SLV climate.
"I'm breeding hemp outside and plants for down here," Two explains. "I'm growing Pakistanis and Moroccans and things that work up here at 8000 ft with a super short season. At the end of September, we get torrential rains and freezing hail and freezing rains. If you're not done before then, you better not be finishing because you'll get mold and shit. But if you finish before, you can harvest or make it through and then harvest. I'm breeding mountainous stuff; breeding with intention."
What happened to Charlotte's Web?
Since then, a lot has changed in the cannabis and hemp industries. CBD is readily available in most places thanks to legal hemp, lessening the demand for CBD-dominant cannabis cultivars. The Stanley Brothers as they once existed have since broken up, and Charlotte's Web has become their brand name, instead of a specific plant. Additionally, Charlotte Figi passed away in 2020.
"I was so upset," Two remarks of Figi's passing. "In a weird way, I saved her life, but she saved mine…I really wanted to meet her, and to tell her, 'I helped you, and you don't even know me, but you helped me, too.'"